Jump to Recipe
Delicious chia seed pudding layered with nectarine puree for a tasty jar filled dessert.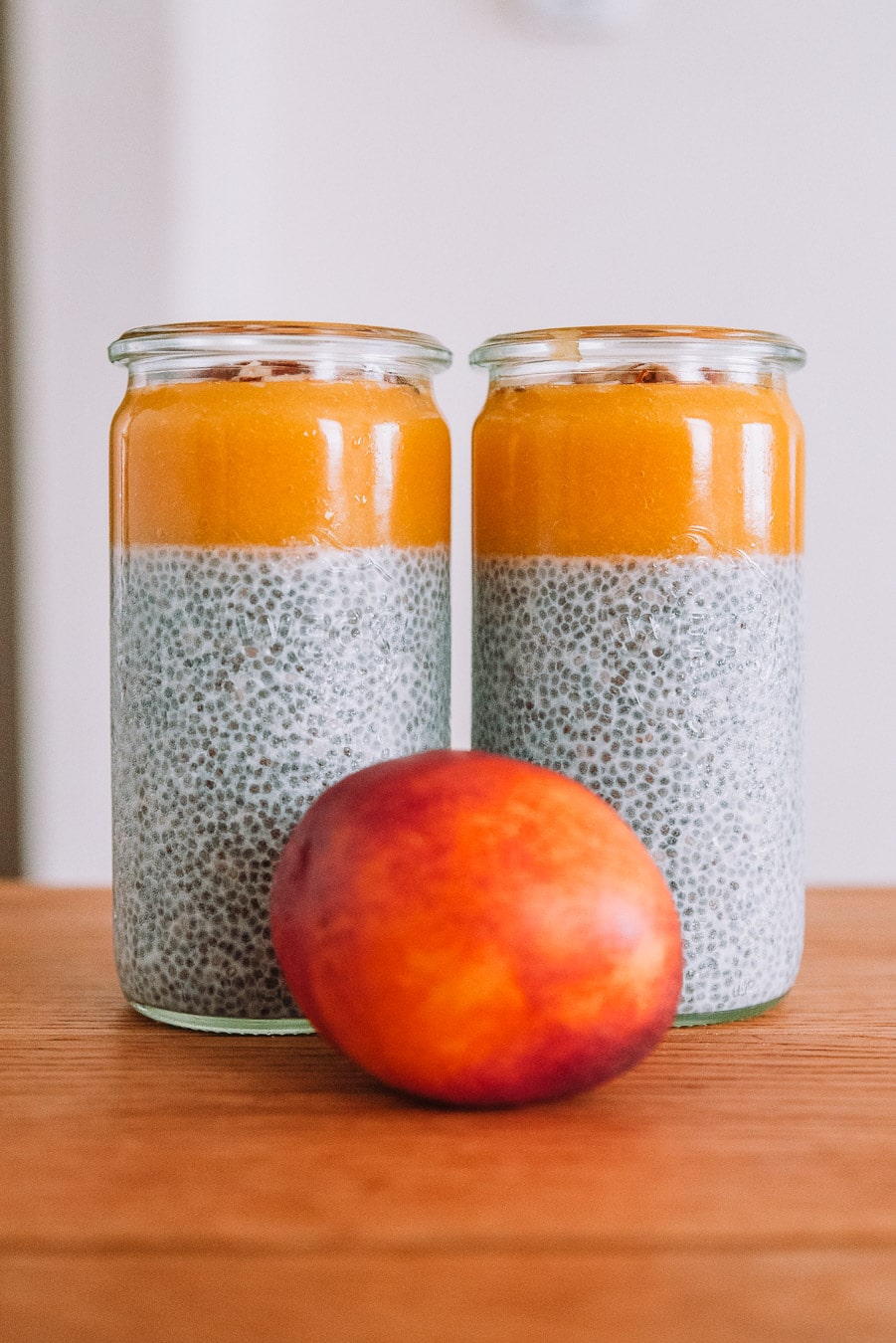 This page may contain affiliate links, meaning I receive commissions for purchases made through those links, at no cost to you.
This simple snack or dessert is dairy free, just a tad sweet, with major flavor and texture with thick chia seed pudding. What I love about chia pudding is how easy it is to throw together. The longest part of making this recipe is the hours required to sit in the refrigerator. It's a set it and forget it type of thing.
Oh, nectarines. It's a wonderful time when it's peak season and I see them at the market. I remember just how much I really love to eat nectarines every time I spot some. I think it's the texture of the skin that I just can't get over. So smooth and quite a contrast to the fuzzy texture of peaches. Both peaches and nectarines are equally delicious. I love all stone fruits. Give me a basked and I'd blindly eat them all.
My trips to the farmers market have been wonderful these days. There still are less vendors (compared to pre-covid) but there are also less restrictions (compared to the early days of this pandemic). Customers can now grab their own produce (as of the time this blog post has been posted) thanks to phase 2 being implemented. In the beginning, part of social distancing in the wake of COVID included barriers marked with farmers market caution tape or roping off areas to prevent customers from accessing produce and goods at the market. The employees for each vendor were responsible for gathering what the customers needed. It was a strict one entrance in and separate entrance out. No moving backward when shopping, only forwards.
Ingredients You'll Need:
Nectarines: Both white or yellow nectarines will work just fine for this Nectarine Chia Pudding. Note that white nectarines (just as my photo at the farmers market says) are more sweet while yellow nectarines are less sweet with more acidity. For this recipe I did use yellow nectarines but feel free to chose whichever you want.
Chia Seeds:
Milk: This recipe is dairy free and uses unsweetened almond milk.
Honey: For a natural sweetener use a touch of honey.
Lemon Zest:
Almonds: Top off this perfect chia pudding with almonds for a nice crunch and dig right in with a spoon!
Utensils You'll Need:
Large bowl
Whisk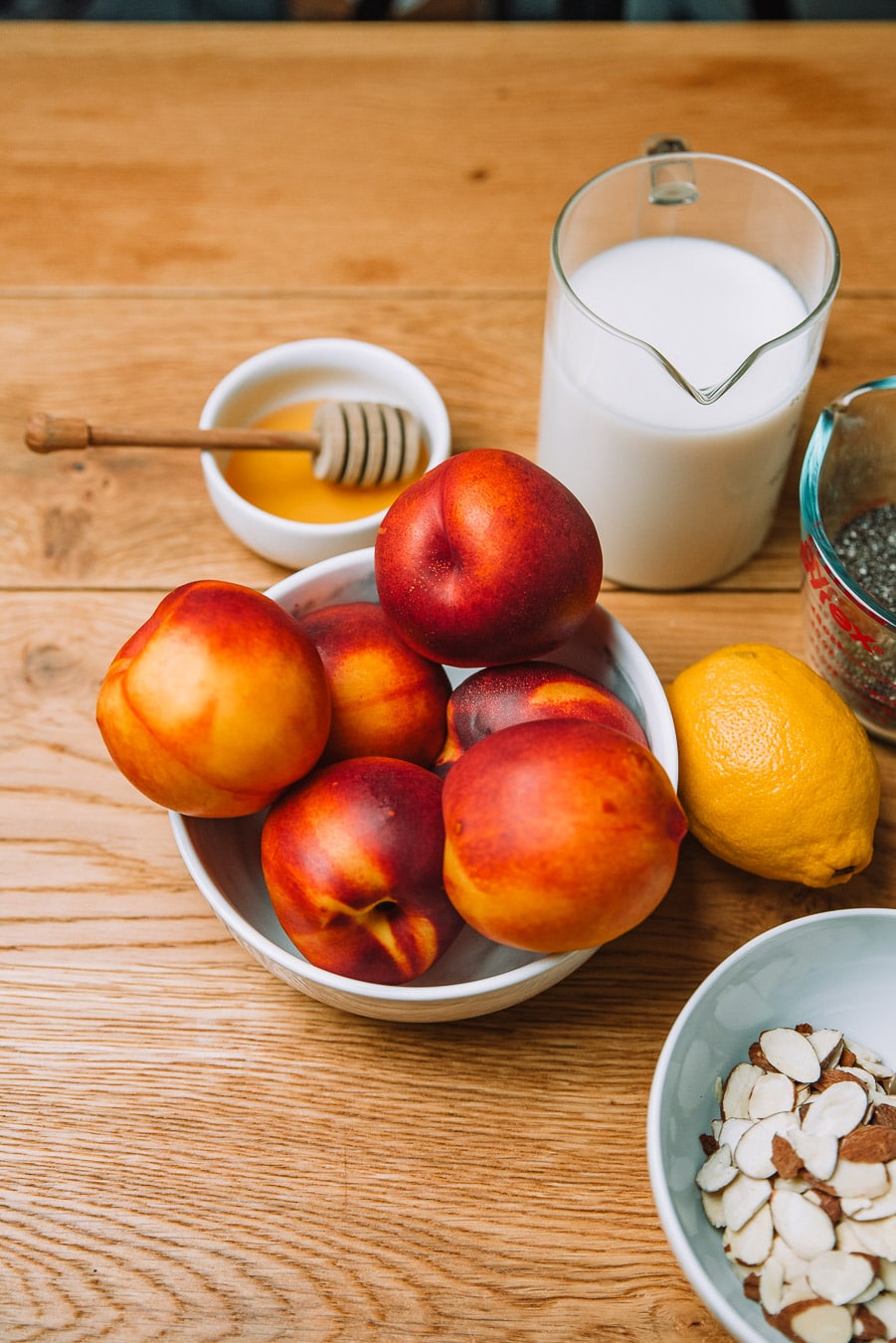 How to Make Nectarine Chia Pudding
Use a large bowl to add milk, honey, and chia seeds. Stir using a whisk or another utensils. Chia seeds may start to clump. Make sure to break those pieces up to allow the pudding to set evenly. Once chia seeds are thoroughly mixed pour equal amounts into 4 jars. Space should be left at the top for nectarines puree. Cover the jars and place in refrigerator to chill for 4 hours or overnight.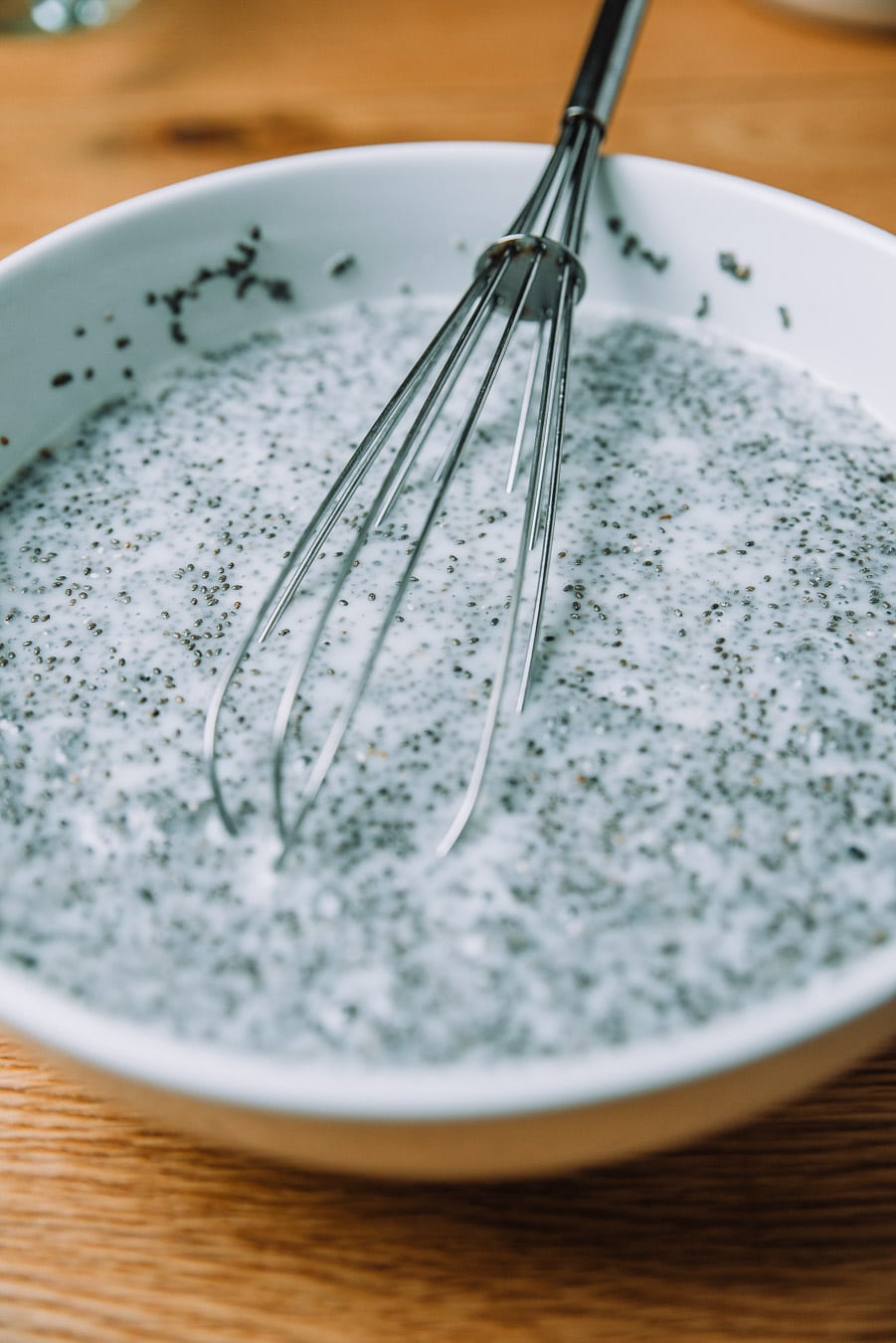 While chia pudding is in the refrigerator, lets make the nectar puree. Bring a small saucepan of water to a boil. Use just enough water to cover the nectarines. Cut an X on the bottom of each nectarine and place into the saucepan. Blanch the nectarines for 1 minute (note that the fruit will change in color. The skin of the yellow nectarines turned completely yellow). By blanching first, this will allow the skin to easily peel off in order to make the puree.
Remove fruit safely with a pair of thongs and transfer to ice bath or run cold water over them just until it's cool enough to handle. Peel the nectarines and remove the pit from the center. Chop into large chunks.
Transfer to a food processor and add lemon zest. Process the nectarine until smooth like puree. Refrigerate until ready to use.
Remove the chia pudding jars from the refrigerator. Add a top layer of nectarine puree to the jar, sprinkle on almonds and enjoy!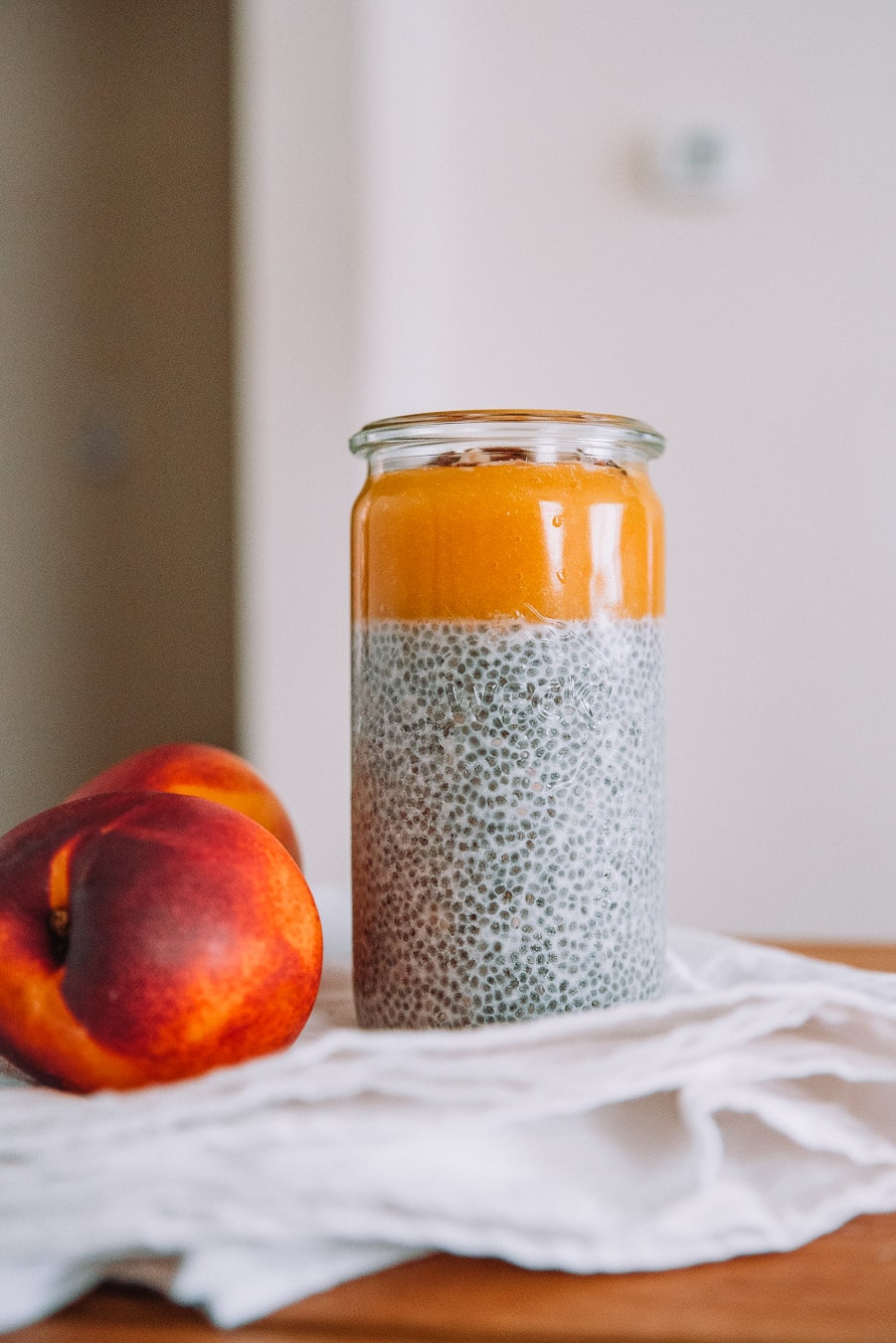 Alternatives
Make this dish vegan by replacing honey with agave or another vegan sweetener.
Easily swap nectarines for any type of stone fruit- peaches, plums, etc.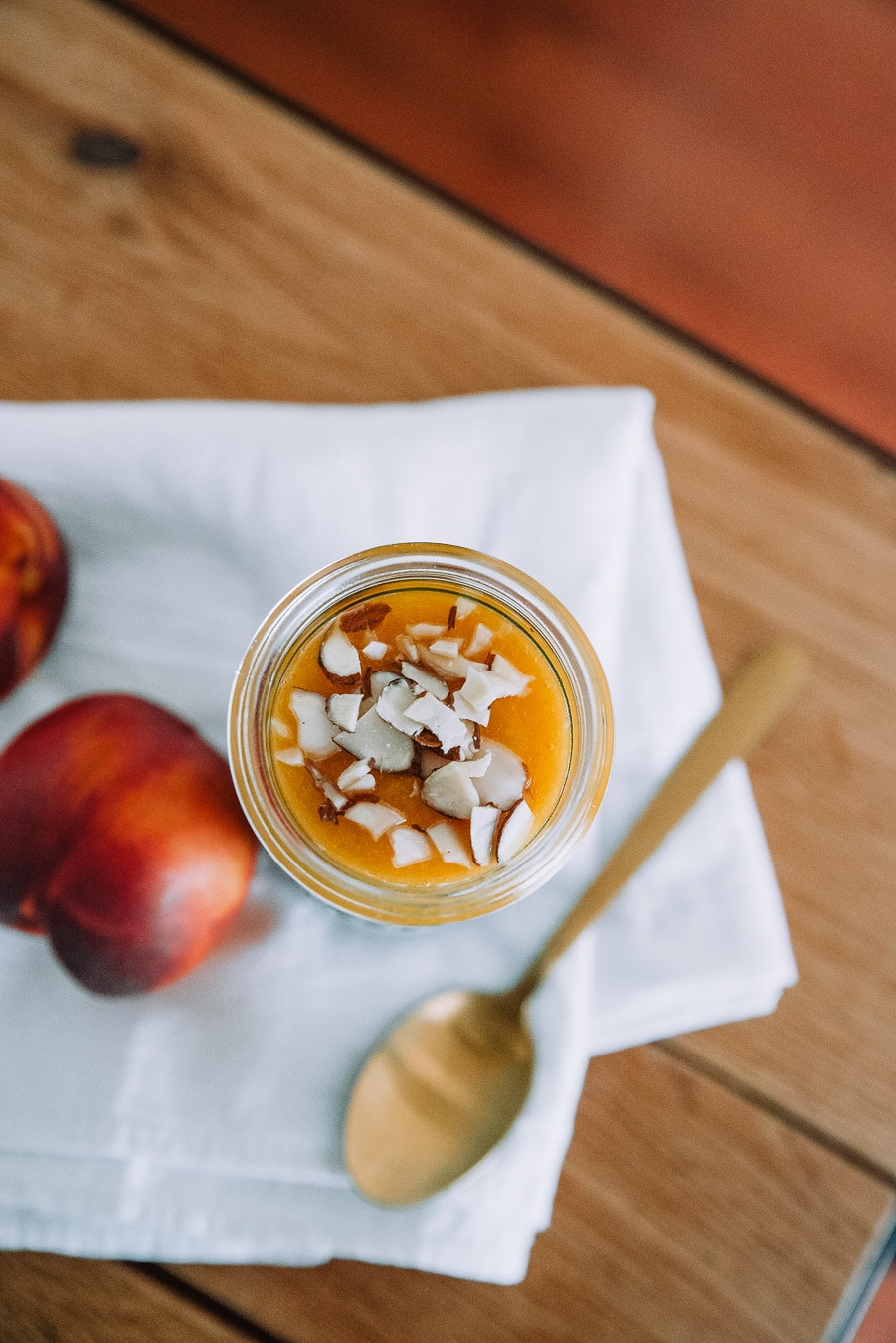 Other Delicious Farmers Market Inspire Recipes!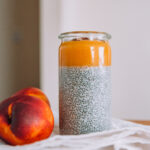 Nectarine Chia Pudding
Print Recipe
Sweet nectarine pureed layered with a chia seed pudding for a grab and go friendly dessert or snack.
Equipment
large bowl

whisk

food processor

jar
Ingredients
½

cup

chia seeds

2

cups

unsweetened almond milk

1 ½

tablespoons

honey

2

ripe nectarines

¼

teaspoon

lemon zest

1

tablespoon

slivered almonds

for garnish
Instructions
Add the chia seeds to a bowl with the milk and honey. Whisk well.

Cover the pudding and refrigerate for 4 hours or overnight.

Bring a small saucepan of water to a boil.

Cut an "X" on the bottom of each nectarine and place it into the saucepan. Blanch for 1 minute.

Remove the fruit with tongs. Transfer the nectarines to an ice bath or run under cold water until cool enough to handle.

Peel, pit, and cut the nectarines into large chunks.

Transfer to a food processor with the lemon zest. Process until smooth then refrigerate until you're ready to serve the pudding.

Spoon the nectarine puree over each serving of pudding and garnish with slivered almonds.

Serve.