Jump to Recipe
What's can be better than a delicious simple salad, I'll wait!
Many nights ago I created this content for Kale Caesar Salad and held onto it. Looking back there's no reason why I did such thing so I'm finally sharing with a blog post and a new IGTV episode on Instagram. If you want weekly food market inspo as well as more videos for market to table recipes check the page aloud give it a follow. According to a new update Instagram now allows IGTV videos to be put in a series. This basically means videos can be categorized and YOU can subscribe and receive notifications about the series your interested in. Sounds awesome right. It's only right I start a series specifically for Farmers Market Society to share the market to table inspired recipes for you to have at your finger tips. To stay updated, follow FMS's new IGTV series Market Inspired Recipes.
How to make Kale Caesar Salad
Start by preheating your oven to 350 degrees F. While preheating slice your bread if necessary. Making croutons is great for using left overs loaves r extra bread in your pantry. Toss in olive oil and a little salt (salt optional). Bake in oven for about 10 minutes or until crouton turn a yummy golden brown.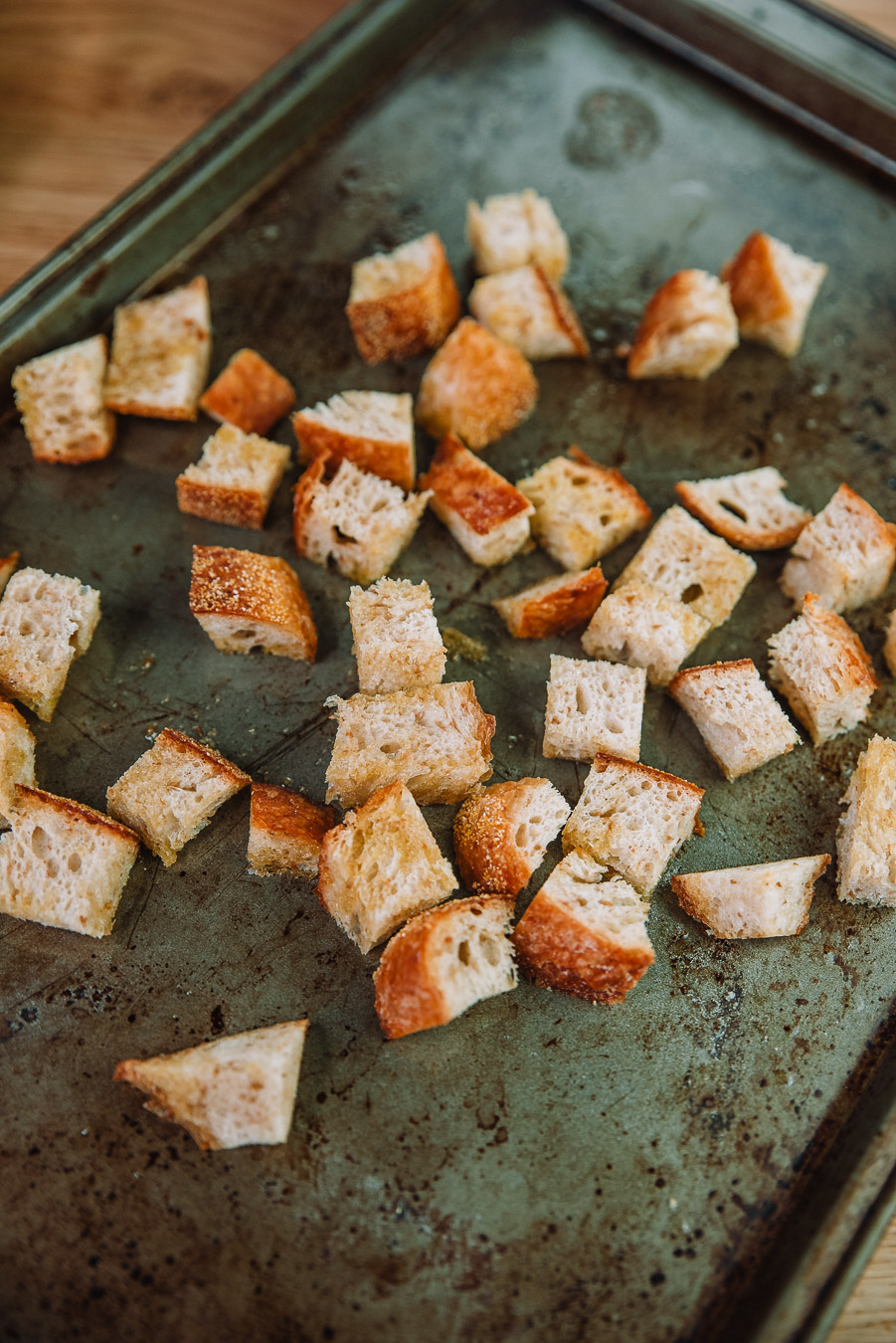 While your croutons are cooking take a large sized bowl and add garlic cloves, anchovy paste, lemon, mayonnaise, Worcestershire sauce, parmesan cheese, salt and pepper and combine. If anchovy paste is not an option, you can definitely substitute with anchovy filets. Be sure to mix caesar dressing a blender/food processor to help mix the fillets.
Lastly take 8 cups of shredded kale and add about 2/3 of the caesar dressing. Toss generously to help distribute the sauce over the kale. For more flavor let the salad sit for a few minutes. This will wilt the kale and take away the bitterness often tasted in kale. Serve with your freshly baked croutons and enjoy!
If using anchovies does not suit your fancy you can still enjoy this kale caesar salad. Please try substituting anchovies with dijon mustard.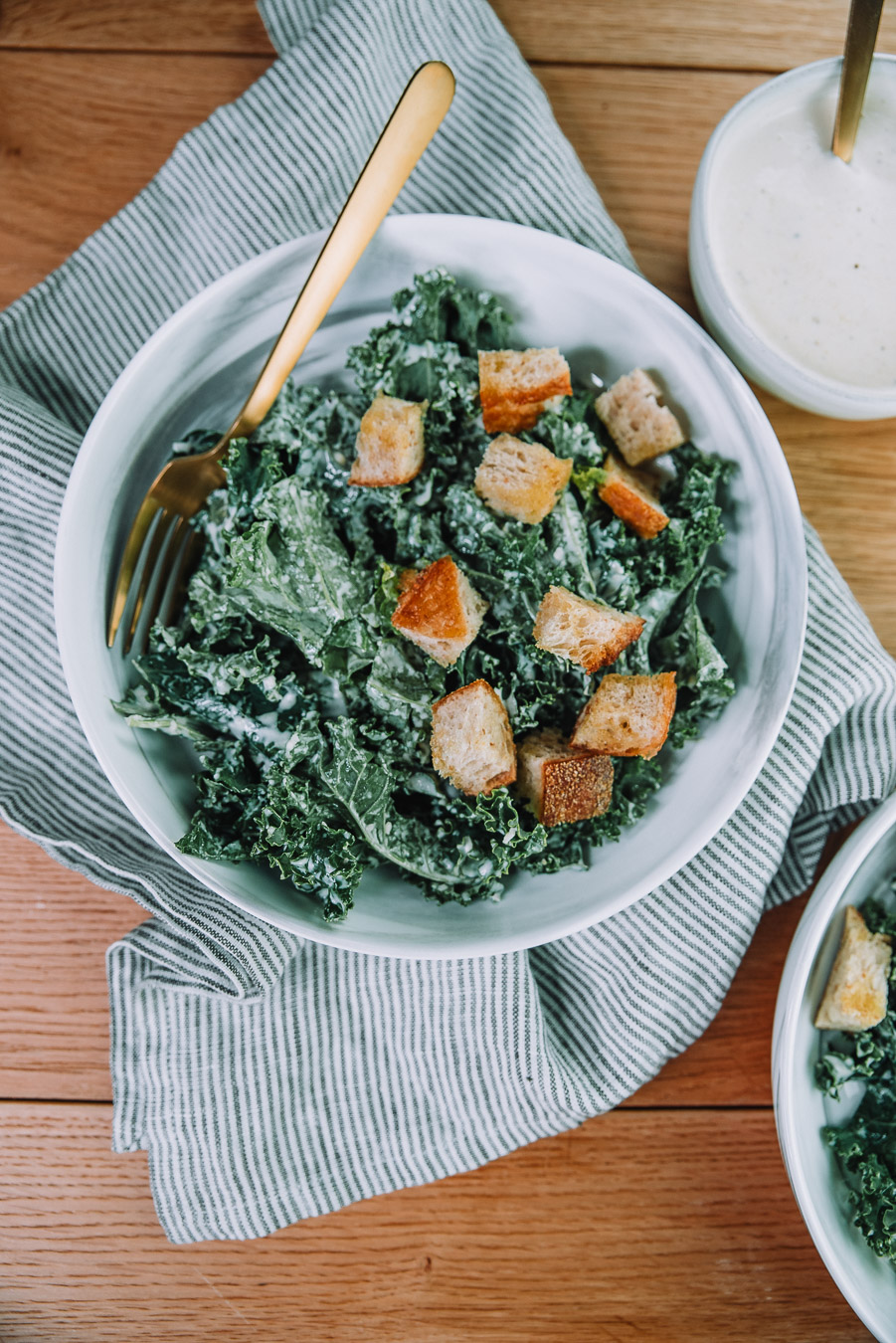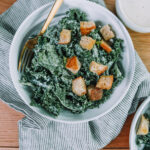 Kale Caesar salad
Print Recipe
Super easy Kale Caesar Salad is a market inspired recipe made with fresh kale, garlic, and lemons. Check out tips to make this yummy delicious salad with and dressing with or without anchovies.
Equipment
Roasting Pan

Blender/Food Processor
Ingredients
Croutons
2

cups

diced crusty bread

2

tablespoons

olive oil

Kosher salt and black pepper
Dressing
2

minced garlic cloves

1

teaspoon

anchovy paste

Juice of 1 lemon

1

cup

good quality mayonnaise

½

teaspoon

Worcestershire sauce

½

cup

finely grated parmesan cheese

½

teaspoon

kosher salt

¼

teaspoon

black pepper
Salad
8

cups

shredded kale

Freshly grated parmesan cheese

for garnish
Instructions
Preheat oven to 350 degrees F and line a baking sheet with foil or parchment paper.

Transfer the bread for the croutons to the baking sheet and drizzle with the oil. Toss to coat.

Lightly season with salt and black pepper. Toss again.

Toast in the oven for 10 minutes or until golden and crispy.

Meanwhile, whisk the dressing ingredients together until smooth.

Transfer the shredded kale to a large salad bowl and add two-thirds of the dressing.

Toss then let the kale sit for 4-5 minutes. During this time the leaves will soften.

Remove the croutons from the oven.

Add the remaining dressing to the kale.

Top with the croutons and parmesan cheese then serve.
Notes
Can use anchovy fillets instead of anchovy paste. If using anchovy fillets then use a blender or food processor to thoroughly mix caesar dressing. 
If using anchovies does not suit your fancy you can still enjoy this kale caesar salad. Please try substituting anchovies with dijon mustard.
---
DID YOU MAKE THIS RECIPE?! BE SURE TO TAG @FARMERSMARKETSOCIETY & INCLUDE #FARMERSMARKETSOCIETY ON INSTAGRAM!